Local residents in Prestwich and Simister have been upset to hear about changes to long-established bus routes. As usual the bus operators and Transport for Greater Manchester seem to have made the changes without any consultation with local residents, local bus users or local councillors.

The main changes are:

96 Simister to Manchester – discontinued
93 Manchester to Carr Clough – will not now continue to Prestwich.
94 Bury – Prestwich – North Manchester Hospital – this no longer serves St Anns Road, going directly down Bury New Road.
90 A new 'Simister to Kersal Road' circular service, every hour, serving St Anns Road (see map below).
The changes leave Simister and the upper end of Heywood Road without a direct service to Manchester for the first time in decades. People travelling to and from Manchester will need to change and if they miss the connection for the 90 will have to wait an hour. (Also no Sunday service to Simister or up Heywood Road at all.)

People in the western side of Prestwich (Carr Clough and St Anns Road) lose useful journeys to North Manchester and Prestwich Village.
The new timetables are here:
93
94
90

(New 90 service, every hour and no Sunday service)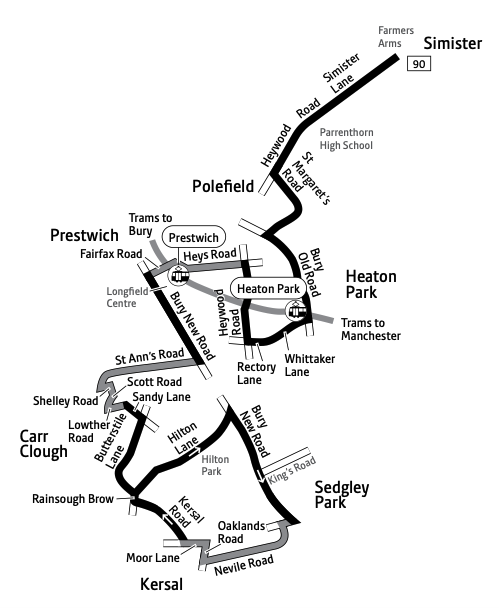 We're really interested to hear from bus users who's travel needs have been disrupted by the changes, so that we can make a strong case to Transport for Greater Manchester to look again at these changes.

Please let us know your experiences and thoughts.